Welcome home to the Alchemical Goddess Oracle Sanctuary, to our in person and online retreats and workshops!
The Alchemical Sanctuary is a sacred space where we offer love, compassion, empathy, empowerment, inspiration, embodiment, creativity, tranquility, healing, joy, laughter, kindness, nonjudgmental support, acceptance and so much more! Your soul is limitless and your path is divine. Explore and journey on! This is a place of the present moment in the sovereign true center of your being. We uplift each other to our full potential of our divine souls. We hold space for our own healing.
To give out into the world, we refill and fulfill in return to equal balance of the flow of our life.
Our RE - TREAT - workshop is a TREAT for your beautiful and beloved divine feminine body and soul to empty, refill and empty again in the communal flow of unity together.
Are you here to seek Divine Wisdom?
I am calling to YOU my Soul Sisters!
I am Anya Devi.
I am here to bring us together and to weave women together, to find and to offer healing of the Divine Feminine in many divine ways of the Soul and the Soul's purpose.
I am here to remind you that you can feel all that you are and you can always be inside your Mystery and your MAGIC.
Never leaving it.
And living fully as you are in your Divine Wholeness.
I am here to remind you to Reclaim your Highest Divine Self and always be connected.
Always speak your truth.
Always be led by love.
Remain Sacred and Sovereign.
Rise Graceful and Powerful.
Reclaim your power now and choose to remember.
Call home all parts of yourself, all broken and fragmented parts that you have lost along the way, while sleeping and while coming back to your senses and visions and flashes of memories of your divine purpose here on earth.
Call home all pieces of your Soul.
And restore WHOLENESS now.
Welcome your HIGHEST SOUL now.
Welcome your full capacity as a vessel for the Divine.
I am speaking to my Soul clients, who are my Soul Sisters!
They are the Heart-open, Eye-piercing, Purpose-driven, Soul-exploring, Self-investing, Self Worth-activating - Love-igniting - Divine and Powerful Women, who know they are meant for madly inspiring, divine and radical MAGIC, who are re-awakened to their truest, LIMITLESS potential of their purpose in this lifetime to help the world and to be more embodied in the way of the FEMININE that they know they are.
My Soul Clients are Revolutionary ~ Embodied ~ Divine ~ Feminine Leaders.
My Soul Clients ARE my Soul Sisters.
And my Soul Sister is my mirror. Someone I want to run to and away from. She, who is my Sister.
She, WHO is the Healer. Teacher. Light Worker. Facilitator. Business Woman. Magic Woman. Entrepreneur. Shamanka.
Natural Woman. Angel. Fairy, Druid. Dakini. Graceful Fire Warrioress. Shadow Dancer. Shape Shifter. Wild Woman. Wise Woman. Dragon Woman. Role Model. Way Shower. Visionary. Muse. Artist and Mystic of ALL time and ALL eternity.
I am CALLING to The Alchemical YOU ~ Priestess ~ Goddess ~ Queen ~ Shakti ~ Devi ~ Woman ~ Yogini on Fire ~ Inner ~ Sanctuary ~ Revolutionary ~ Embodied ~ Feminine ~ Leader ~ Creative ~ Essence of the whole Universe in her own awe and wonder, aware, awake, conscious, compassionate, brave, confident WISDOM and POWER.
My Soul Sisters hear the call and they come to be guided by the Powerful Energy of the Divine to be present, to rise and to walk into revolutionary, radical, incredible ways of each unique journey of the Soul to find and truly claim their Purpose.
And through it all:
She claims her WORTH.
She knows she BELONGS.
She flows in her SENSUALITY.
She collects her POWER.
She delivers her PURPOSE.
She speaks her TRUTH.
She sees her VISION.
She believes her DREAMS.
She remembers her DIVINITY.
She looks and sees through the lens of the DIVINE.
She senses the Femine Energy surging through her veins.
She has visited her Dark Night of the Soul, she has crawled her way in and she has risen back up from the Underworld of her own Darkness.
She gathers all parts of herself HOME.
She remembers who she IS and who she is NOT.
She is present here and now.
She is here...
When she walks in the room ~ everyone turns.
When she stands up ~ the room moves.
When she looks at you ~ you see her Soul.
When she listens ~ she hears all of the world.
When she speaks ~ Nature listens.
When she dreams ~ everyone sees her.
When she calls ~ others come.
When she becomes my Soul Client ~ she invests in her own Soul to be the ripple effect of empowerment, so she can bring healing to the world and empower millions of HEALERS and call for HER sacred Soul Clients.
When my Soul calls to my Soul Sisters through my body vessel, they hear me, they sense me, they feel me and they show up and gather together.
And TOGETHER we create Divine Space and Sacred Sanctuary for Divine Magic of supernatural transmission of healing, transformation, transmutation and all the powerful possibilities of Divine Creation, Action and Manifestation of all that we came here to bring into form, into our lives and into the world, to begin and to continue to do the work we are here to bring to the Earth.
My Soul Clients are Powerful Goddess BABES, illuminating, bright, radiant Divas and dark, glorious Goddesses of unapologetic, raw, honest and authentic liberation of our minds.
They stand up for their Souls and for the Souls of the world.
They know how to stand in their power and how to hold their graceful powerful stance.
They know how to speak their words and sing their songs.
They know how to use their pain to produce the medicine for the world.
They no longer feel afraid, ashamed, guilty, angry, small or unworthy.
They are BRAVE and UNSTOPPABLE.
They stand in their power to belong.
to be whole and holy.
empowered and honored.
seen and heard by the Divine.
in their utmost power of love and sacred rage gracefully united in the embodiment of YOU.
Yogini Soul on Fire.
Claim your Power back NOW.
Manifest your Soul's Purpose NOW...
But…
It WAS NOT always that easy along the way…
… to overcome all that we needed to overcome to become who we ARE now.
Inside.
From outside.
This path is not for all and it re-awakens naturally to those who seek more.
And even though you are a Powerful Goddess, an embodied divine feminine leader and a beautiful essence, the one they all turn to and can't look AWAY from OR they RUN for the hills within themselves and HIDE and hold a CHARGE, contract… expand… show up and hide…
The truth is that you, too, have fears and you have doubts…
You are still holding on to many deep layers of this world…
You still have to go into the dark and seek your medicine and you are afraid to go alone...
And you forgot some parts of yourself...
You lost fragments of who you are along the way…
At what point, have you forgotten your magic?
When did you forget that you belong?
And you often may be stuck in a frozen pattern, paralyzed or terrified...
That you may not be enough to be who you envision yourself to be...
That even though you're a leader, maybe you're not THAT much of a leader?
That you will show yourself up and everyone will see you?
That you are burned out, disappointed or lost the spark and juicy feminine creative energy of life?
That your deepest INNERMOST sacred dreams are not coming true...
That if you go all in and show up as authentic as you truly are and actually choose and decide to be who you envision yourself to be, you're afraid you will fail…
And on top of that you will actually have to live the rest of your life, KNOWING that you held the MAGIC and you let it go…
To still have that burning fire inside of you that just won't be put out… It's deep, quiet whispers won't let you rest inside your mind...
How does it feel, when each day and night pass you by, while KNOWING you did not show up again and again when you could? Even for one minute of your time?
…. Knowing that it is here already.
YES - you can.
That if you just trusted a little more.
And leaned and stretched into the fear.
You'd not only liberate yourself from fear.
But you would also bring in the abundance you have always dreamed of, so you may give more and serve more as the Divine into the world?
It's time to set YOUR SOUL on FIRE.
You desire to dream even deeper and higher than what you've ever allowed yourself to dream.
And deep down in your Soul you walk through the illusion of fear to see the clear truth.
That you know what it takes to become her.
But you need somebody there to remind you of who you are.
To show you time after time how to bring all parts of yourself back into your Wholeness and Holiness and believe in yourself!
And also be the fierce and unapologetic Soul on Fire of energy to kick your energetic ass in gear to begin living your embodied way of being.
I work with the Divine Embodied Feminine Leaders,
who came to this Earth to bring their gifts and service to the planet.
Who hear the call of the Divine through their Soul.
Who desire to fulfill their Soul Purpose.
Who are willing to do whatever Divine Action it takes to bring forth their Divine Purpose here to Earth.
Until they bring it.
Claim it.
Own it.
I See You my Soul Sister.
I will show you how to do the same.
When you come into my Sanctuary space, you can not and you will no longer run away from your Soul.
I give permission to Way Show-ers like you try ANOTHER way…
YOUR way...
So... wildly… you can finally show up as who you truly are and fully bring all you came here to deliver...
Do you hear the calling of your Soul and do YOU WANT to know more?
To My Soul Sister:
My greatest gift to you is the wisdom that comes through me, through my vessel body. I am here to tell you something, to teach you something and to pass a message through me in some way, in many or few unique to only you different ways, until we are complete in that divine and sacred exchange…
It may be once or it may be for eons that we cross our paths so you may hear the song of my gifts, so I may share them with you…
YOU CAN actually finally choose to say "yes" to YOU!
Message me and I would love to talk!
The leap of faith is often behind fear.
Lean into the unknown and into the uncomfortable and into the scary.
Message me now and tell me a little more about you and what you deeply desire.
I have EXACTLY what you need to help you take the leap.
Blow your mind and become the Divine that You ARE ~ Sacred ~ Sovereign ~ Unapologetic ~ Brave ~ Powerful!
Remember who you are ~ Divine Magic!
Xoxo
Anya Devi
Multidimensional Guide ~ Quantum Field Work ~ Spiral Practitioner ~ Devi ~ Divine ~ Temple Body Artist
Anya
About Your Guide
Anya Devi is an embodied Divine Feminine Leader, Soul Essence, Energy Healer, Emotional Clearing Practitioner, Spiritual Teacher, Mentor, Spiral Practitioner, Kambo Practitioner, Goddess Oracle and Temple Body Mentor & Artist.
Anya Devi has been facilitating healing workshops, events, classes and retreats for men and women since 2000.
Anya Devi holds a Sacred Sanctuary Space for her local and global community.
Anya offers emotional clearing, quantum field work, transformational coaching and embodiment to support men and women in deconstructing their conditioned programming, limited beliefs, inversions, corruptions, templates and distortions, and quantum shifting anything that stands in the way of fully realizing and living their soul-purpose led life.
At the foundation of Anya's healing work is service to God, Goddess and all of humanity. Anya stands for women, men and children and for reawakening to truth on the planet, while assisting human kind in to be their highest potential in all aspects of their life.
Areas of Focus:
Soul
Mudra
Mantra
Grid Work
The Spiral
Pranayama
Reading gifts
Shadow Work
Sexual Healing
Divine Channel
Oracle of Sophia
Divine Guidance
Alignment to Soul
Inner child healing
Emotional Clearing
Archetypes/Goddesses
Light Body Architecture
Connection to the Divine
Mindfulness and Meditation
Mythopoetry/Myths/Story Teller
Multidimensional Quantum Field work
Self-realization and Spiritual awakening support
Embodiment: somatic movement, yoga and dance
Alchemical Quantum healing and Temple Body arts tools to help you find/rediscover your soul's purpose and mission work, removing programming, implants, templates, deconstructing limited thinking, frozen patterns, inversions, reclaiming your birthright to your self worth, stepping fully into the fullness in all areas of your life!
"I am in service to God and Goddess - Divine Creator - Christ-Sophia, and to all that is divine and in devotion to the Divine. I deeply care about assisting in reawakening all of humanity and creating sacred spaces of service and deep emotional healing to support the Earth and humanity in the ascension process. To be strong and courageous enough to stand in the fire of divine truth and fight off the corruption.
I stand for women, men & children, who are or have been the victims of sexual slavery, human trafficking, sexual misery and abuse, use of any kind or control against their will or knowing by another being, a system, a program, mind control, entity and any energy.
I stand for the victims of all pharmaceuticals and for all those, who can not be helped in the density of the 3D world and it's physical pain and suffering. Assisting in finding peace and healing for the Soul, and in transitioning to the other side of the veil.
I humbly serve, empower, teach and mentor children, women and men, who are ready to step fully into their true inner highest Self and knowing of who they are and what they are here to bring into the world.
Their mission.
Their Purpose Work.
Remembering who they are.
Knowing where they come from and who supports them.
Recognizing their medicine.
Transmuting through the old pain and no longer allowing it to stand in the way of what must be done now.
I stand for all of humanity.
I am here to remind you of who you are - Divine Magic ~ Divine Union ~ Sacred Marriage ~ God and Goddess, Divine seed, creation and union within.
I am a Divine Conduit and Channel of love and healings.
I help you to wake up, see the truth, heal your wounds and embody your mission work on the planet.
I work with couples and I help them to co-create a transformational life together, as a Divine Union, serving humanity fully and showing up in their Souls Purpose Work together, heal together and serve together as a conscious, powerful Divine Union, fully integrated, awake, embodied and in service.
Giving gratitude and all grace to God. The true phenomenon of miracles and love. As we are simply the mirror reflections of that miracle love."
~ Anya Devi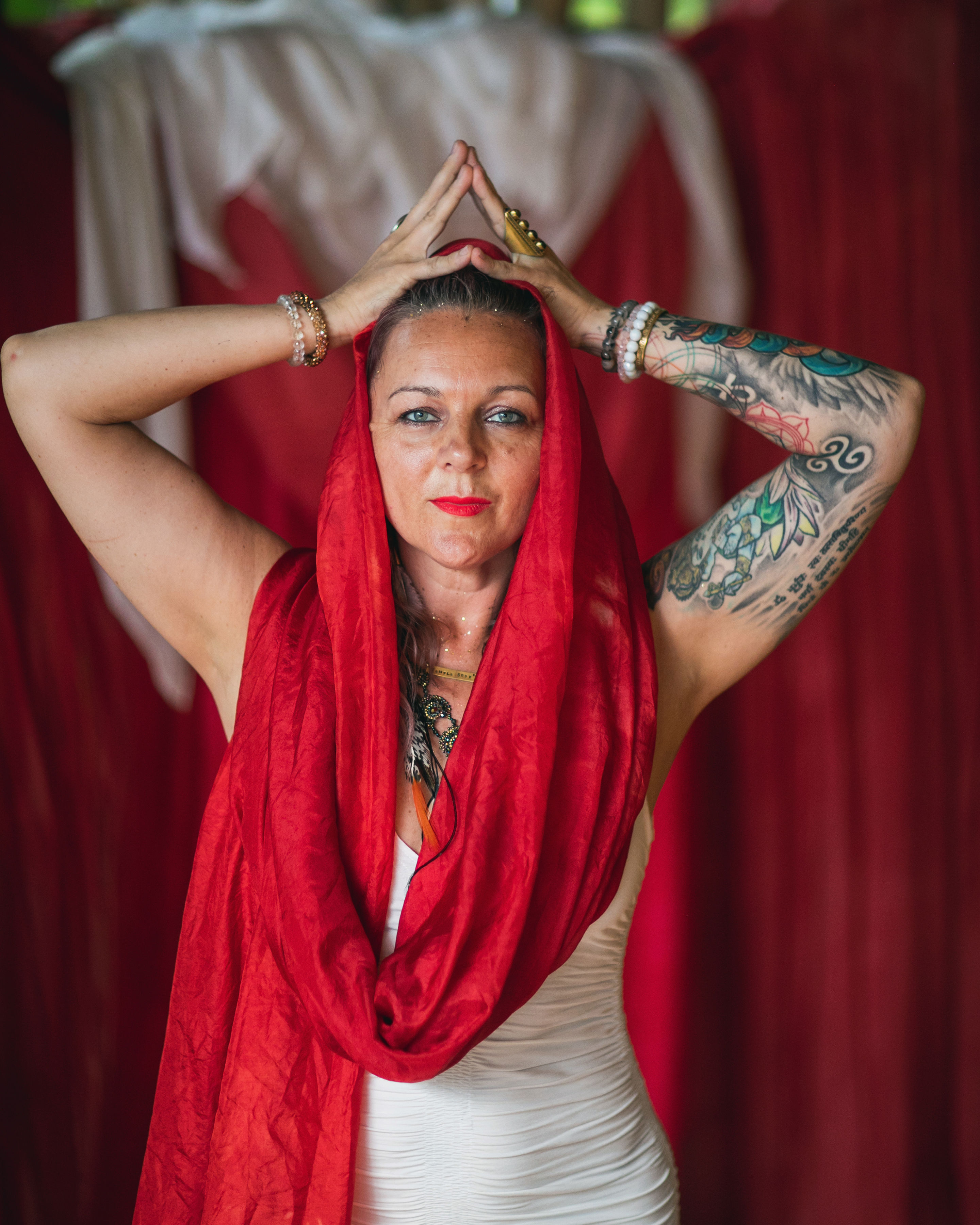 Temple Body Artist & Mentor
Divine Union Couples Retreat Facilitator
Founder and Shadow Worker/Movement/Dance at The Alchemical Goddess
Cosmic Yogini/Yoga Teacher 200 Hr YTT
Oracle of Sophia
The Spiral Emotional Clearing
Kambo
During our retreats/events and workshops, we are open to and we are aware of the possibility of experiencing:
Discovering many faces of different divine beings.. guides, protectors & their inspirational stories.
Loving care, trust and confidentiality, safety, positive and friendly environment.
Possibility of transformation, letting go of any trapped emotions and negative thinking, feeling and letting go of sadness or grief as well as feeling of immense joy and bliss or ecstasy, crying, laughing or feeling nothing.
Goddess resonance, sacredness, practice of spirituality, shadow work, healing through practice, sound and touch.
Connection through transmissions in the practice of yoga asana (flow, yin and restore poses), as well as other styles of yoga.
Meditation, pranayama, singing and dancing.
Creating, journaling, speaking, listening, healing, crafting and much more…
Potluck Love.
Guest teachers.
Private closed group/email to connect and exchange our inspirations.
Together we are open to spontaneous sparks! We honor whatever else comes into our creative higher vibration flow during our time together.
I bow to you, dear one! Thank you! Thank you! Thank you!
Namaste